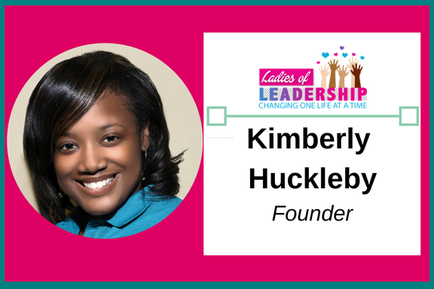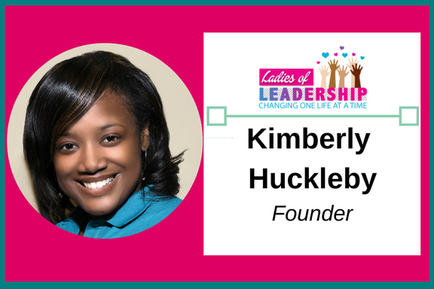 Hello! I'm Kimberly. Here's a little about me! I am the Founder of Ladies of Leadership, a wife, mother, and a giver. When I began  L.O.L, I just wanted to help young ladies be great. As a young girl, who grew up in Akron, Oh,  I experienced a lot of ups and downs. I was very insecure, didn't feel loved, and didn't love myself.  I didn't understand the importance of valuing myself. Because of this, I lived  a carefree life. I didn't care about the results of what I did; I was quite destructive. . By age 16, I became pregnant. I didn't know who I was and now I was responsible for raising a child alone. The prominent reason why Ladies of Leadership has been established is to prevent young ladies from self-afflicting wounds that would negatively alter the course of their lives. It wasn't until my adult life when I gave my life to Jesus Christ and experienced God that felt peace and joy in my life . There were times where I wished someone was there for me in my younger days to guide me down a clean path and that's why I give back to young ladies. I believe it is my duty to love each member unconditionally without wavering. I believe in the importance of showing I care by listening to their passions and  problems and leading them to be whole well rounded young ladies.  If L.O.L didn't exist, the communities that we impact would lack from countless young ladies suffering from depression, suicide, low self esteem, teenage pregnancy and failing grades. The benefit of working with us  is to ensure that the members of our program are positive citizens in the community.  Our program literally changes lives for the better in all aspects of their lives.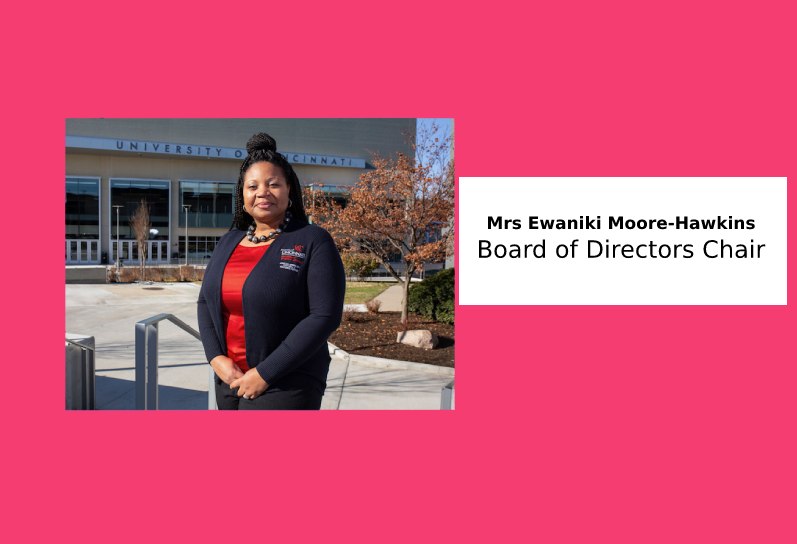 Ladies of Leadership is elated and honored to introduce our Board Of Directors Chair, Mrs Ewaniki Moore-Hawkins. She has been hand picked by God to further our mission.  Her expertise and love for our youth is going to take us to another level. 
Ewaniki Moore-Hawkins has over seventeen years of experience in the fields of Higher Education & Event Management.  She currently serves as the Director of the African American Cultural & Resource Center, the office that assists Black students in an effort to increase retention and matriculation through programs & services at the University of Cincinnati. Ewaniki is responsible for empowering her student constituency in the areas of leadership, academic, personal and cultural development. She has previously served as a student leader, program coordinator and assistant director in the AACRC.
Ewaniki also served as the Director of Operations for The Abercrumbie Group.  The Abercrumbie Group is an MBE that creates and manages signature events to fill unmet needs in the community and help their partners meet their business objectives.  She skillfully worked with this organization for over ten years while helping to build and lead a dynamic team of professionals and college students.
Ewaniki has a strong entrepreneurial spirit that has led her to found two businesses.  Purpose Filled Planners, Ltd is a wedding planning & consulting business in which Ewaniki assists couples with all of their wedding needs from start to finish.  In 2016, she co-founded Soul Palette, a customizable mobile paint partybusiness with her husband.  Soul Palette curates soulful paint experiences that meet their clients cultural, educational, social, professional and or spiritual needs.
Ewaniki has received honors such as a Dada Rafiki Honoree 2017; University of Cincinnati-4A Tower of Strength Award Winner 2017; PR1ZE Program Mentor of the Year 2017;Cincinnati USA Regional Chamber We Succeed Graduate 2015; YWCA Rising Star 2013; Kappa Alpha Psi Inc, Beta Eta Chapter Black Girls Rock Recipient 2012; Alpha Phi Alpha Fraternity Inc, Alpha Alpha Chapter Martin Luther King Jr. Award of Excellence 2010; Darwin T. Turner Scholarship Outstanding Alumni Award; Applause Magazine's Reach for the Stars Award 2007; Cincinnati Christian Hills Academy Community Service Award; United Black Student Association Faculty/Staff Awardand UC's first Miss Kuamka in 1999.  There hasalso been two scholarships created by students and alumni named in her honor. The Ewaniki Moore-Hawkins Village Keeper Scholarship to aid students attending the AACRC's annual Spring Break Tour as well as the Ewaniki Moore-Hawkins Light of Lambda Scholarship which is presented to a current UC woman student.
Ewaniki has earned a BBA and MBA from the UC Lindner College of Business and is married and has two beautiful daughters