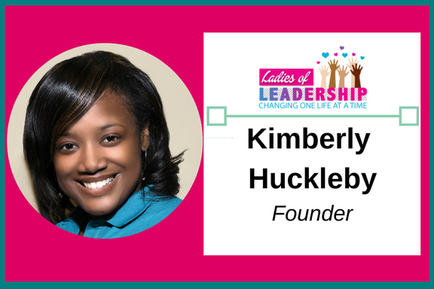 Kimberly Huckleby is a wife, mother, youth advocate, and entrepreneur. Her professional experience spans from being an elementary school teacher for over 12 years, owning and operating a commercial cleaning company(Whistle Clean Service Inc.) to founding a youth mentorship program for young ladies in 2nd-12th grade.
She is widely known for her youth mentorship organization, Ladies of Leadership (L.O.L), which was founded in 2007. The purpose of L.O.L. is to change one life at a time, by breaking the barriers that many young girls face including low self-esteem, poor decision making, depression, suicide, and poor academic achievement.
This Native of Akron, Ohio, who now resides in Cincinnati, Ohio, is very passionate about empowering young women to experience their best lives. This passion stems from her background of being a teenage mother who experienced many hardships, including a failed identity and loss of hope. In her adult life, she encountered the love of Jesus Christ, which altered how she saw herself. This experience was the catalyst that pushed her to pursuing her dreams of working with young ladies to prevent them from experiencing self-afflicting wounds that would negatively alter the course of their lives. She also seeks to provide guidance and remain a resource of hope and encouragement for those who are hurting, broken, and are not sure of what to do in life.
No matter what a young woman is going through, Kimberly shows how much she cares by listening to their passions and problems and leading them to be whole, well-rounded young ladies. Kimberly is a true change agent who is determined to impact the nation. She has made it her mission to educate, inspire, and empower every young lady she works with to know their worth and not settle for less than their best. Her vision of helping young ladies spans beyond the Ohio region and she also seeks to provide more services to include Life skills assistance for both mothers and daughters.
As a trailblazer in entrepreneurship, education, personal development and mentorship, Kimberly has received much recognition including:
o 2010 – 2018 Business of Excellence Award
o Miliken Educator Nominee
o WCPO Cincinnati's Teacher Award
o 2018 Emerging Leaders Award
o 2018 Top 10 Business to Emerge
o Cincinnati Herald Working Women Recipient
o 2019 Sister Accord Leadership Award
o 2019 Essence Magazing Feature
o 2019 Queen of the Year Award
o Urban League Leadership Nominee
o 2020 Dr. Martin Luther King "Keep the Dream Alive" Leadership Honoree
o 2019 Jefferson Award Nominee
o 2020 YWCA Rising Star Award
As a woman of influence, she has touched over 2000 young ladies' lives through her Ladies of Leadership and continues to let her light shine in the midst of darkness. When she is not mentoring, she is spending time with her husband, Shawn, 18 years, and their eight beautiful children Dionte, Tyler, DeAsia, Ayreana, Ayriel, Shawn Jr., Thomas, and Daisy.