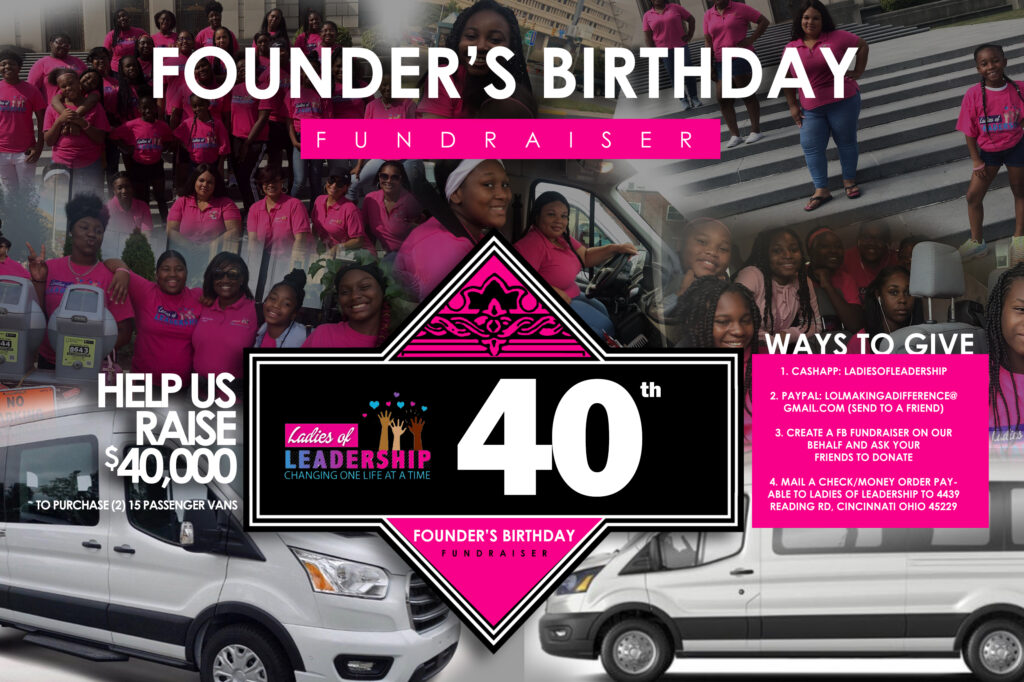 Sunday, October 4, 2020 was the kickoff date that launch Ladies of Leadership's Founder 40 th Birthday
Fundraiser (Kimberly). A 40 Day Campaign to raise a minimum of $40,000 to purchase two (2) 15
passenger vans. Since our organization relies on the generosity of individuals like you, we need your
help. Would you consider donating a minimum of $400.00 which will make a huge impact on our
ability to achieve this goal and serve our 150 young ladies more effectively.
Since our inception in 2007, we have focused on building and cultivating mentoring relationships
in Mount Healthy, Lincoln Heights and Avondale, Ohio. As such, we have been able to touch
over 2,500 lives.
We accomplish this by:
 Developing effective mentoring relationships with parents and communities.
 Instilling the values of education and the importance of behaving and thriving in school
and at home.
 Providing drug and alcohol awareness, and sex education.
 Enhancing skill-set in decision making, strategic thinking and goal setting.
 Offering various vocational and career building resources.
 Imparting the fundamentals of respect for ourselves and others, character and self-esteem
building, and sister-hood.
L.O.L. organization can only achieve its goals with the assistance of generous donations from members
of our community. Without these donations, serving those in our area would not be possible.
Transportation has always been a barrier for our programing. We've transported girls to their sessions,
tutoring, school, as well as all of our outings including but not limited to Circle City Classic, the Ballet,
Community Service Projects, Perfect North Slopes and many more. At Ladies of Leadership our first
priority is making sure we're able to transport our young ladies safely to each destination. We believe
that no matter what, they deserve to participate in our program regardless of their transportation barrier.
They all deserve to be a part of each endeavor.
As a Premiere/Elite Sponsor you will be recognized on our website and on all 2020 Marketing
Collateral. All donations can be made by check payable to Ladies of Leadership. Alternatively, you can
donate online by visiting our website at www.ladiesofleadership-oh.org or by-way of Pay Pal at
[email protected]  
Proceed from donations go to Ladies of Leadership, a tax-exempt organization under Section 501-(c) (3)
of the IRS.
I welcome the opportunity to speak further about Ladies of Leadership and these sponsorship
opportunities. Please contact me, Kimberly Huckleby President by phone at (513) 722-5038 or email at
[email protected] Thank you in advance for your generous contribution. Your support
makes a world of difference in the lives of our young ladies.